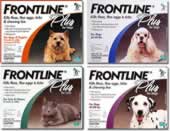 Now that we have two dogs, we've had to keep a closer eye on pet costs. One regular expense is flea medication, for which we have found Frontline Plus to work acceptably. If you buy it straight from the vet or in a retail pet store it can be around $15 per monthly dose.
In the past, we've found that the cheapest price has been on eBay, getting costs down to about $8 per dose for the exact same 6-pack product packaging. But a recent development amongst eBay sellers is to sell the bigger vials made for 89+ lb. dogs, and then have the consumer split the medication fluid into smaller doses themselves. Here's an example of the cost breakdown for a small dog (under 22 lbs).
| | | |
| --- | --- | --- |
| Store | Cost (w/ shipping) | Cost per dose |
| 1800PetMeds.com ("retail") | $83.99 for 6-pack | $14 |
| Amazon.com | $58 for 6-pack | $9.67 |
| eBay (sample listing) | $47 for 18 doses | $2.61 |
At less than $3 a dose, you can save over 80% off of retail. The absolute savings are only about $7-$11 per month, but it adds up quickly. Especially if you have multiple dogs, the ongoing savings could be hundreds of dollars per year.
Of course, you could also just buy the extra-large doses from Amazon.com for $61.49, which equates to $3.42 per small dog dose. However, the eBay auctions also include a glass vial and a marked syringe/dropper to easily measure out the correct doses. (Some also include latex gloves.) If you're going to go through the extra trouble, you might as well go all the way!
More Accurate Dosing
Another potential benefit of essentially buying this stuff in bulk is that you can more accurately dose your dogs. By default, Merial categorizes dogs into four broad categories: 0-22 lbs, 23-44 lbs, 45-88 lbs, and 89-132 lbs. This corresponds to vial sizes of 0.67 ml, 1.34 ml, 2.68 ml, and 4.02 ml. I don't know about you, but I see a pretty big gap between 45 and 88 pounds.
If you take the largest size for each category and divide by the vial size, you get 0.0305 ml per pound every time. So if you have a 25 lb. dog why give them double the dose of a 22 lb. dog? Just give them a bit more (0.76 ml) and you should be fine - and save even more money!
As with all these flea medications, you can do some trial and error to see what brand and dosage level works for your dog. You might need more or less than indicated. Either way, with this method you should still save a good chunk of money.
Read more about Saving Money on Pet Costs: Frontline Plus Flea Medication…